Turtles.Jr adalah band punk yang telah lama mewarnai blantika musik underground tanah air sejak tahun 1992. Turtles Jr terdiri dari Drummer Boentar, vokalis Boodfuck, bassist Dohem, dan gitaris Buux Frederiksen. Turtles Jr adalah sebuah ikon punk di Indonesia, kalau membahas movement punk di negeri ini, pastilah wajib menyebut nama Turtles Jr.
Tahun ini Turtles Jr mendapat undangan dari Rebellion Festival, sebuah perhelatan musik & budaya punk terbesar di dunia tepatnya di Blackpool, Inggris dan menjadi sebuah sejarah band punk pertama Indonesia yang diundang untuk main di acara tersebut.
The Rebellion Festival, sebelumnya Holidays in the Sun and the Wasted Festival adalah festival punk rock Inggris yang pertama kali diadakan pada tahun 1996. Festival ini telah menarik liputan pers dari berbagai belahan dunia seperti The Guardian, the Independent, The Daily telegraph, Kerrang, dan masih banyak lagi.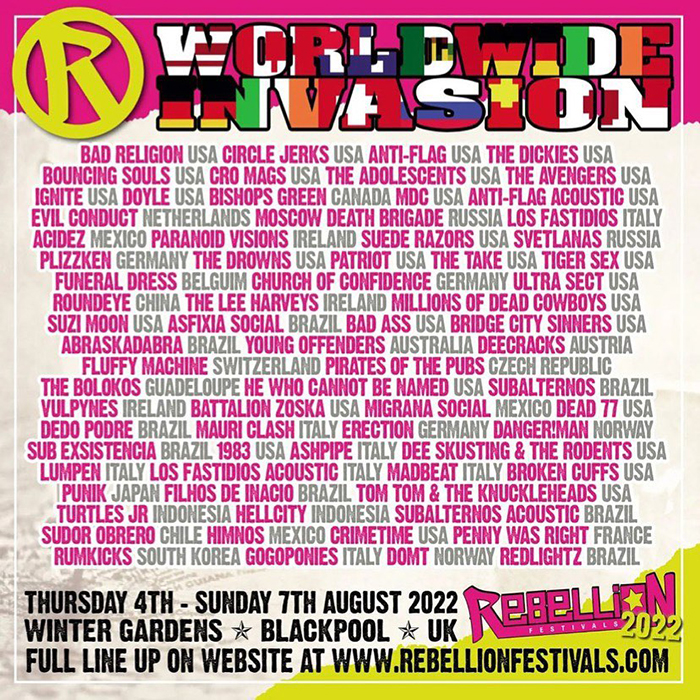 Ini menjadi pembuktian untuk semua bahwa Turtles Jr layak untuk tampil di gelaran tersebut, dan Turtles Jr berkesempatan bermain bersama band-band besar international seperti Bad Religion, GBH, Conflict, The Exploited, Sham 69, Anti-Flag, The Addicts, UK Subs, Discharge, The Dickies, dll.
Turtles Jr saat ini sedang menggalang dana untuk keberangkatan ke Inggris tanggal 31 Juli 2022 nanti, mereka dijadwalkan tampil di Rebellion Festival tanggal 5 Agustus 2022.